Music plays an important part in worship and life at St. John's.

Director of Music
Timothy Rice ARCO ALCM was appointed Director of Music in September 2015, bringing with him almost 40 years' experience in Church Music. He gained his Associateship of the Royal College of Organists in 1989 and has been a parish church organist since the age of 13.
Choir
A robed, enthusiastic and capable 4-part choir sings at Sunday services, as well as at weddings, funerals and other occasions as required throughout the year. At their disposal is an extensive music library containing a large selection of choral music, much of which is already within the choir's repertoire. At occasional services throughout the year, we join forces with the choir from St. Mary's and other neighbouring parishes, singing together at either St. John's or St. Mary's, to make good music in worship together.
Choir Practices are on Thursday evenings from 6.30pm for about an hour. We are actively seeking to add new members - ladies, men and children - to the existing choir; this will help us to broaden our horizons on to an even wider repertoire, so please contact us by email if you are interested.
Organ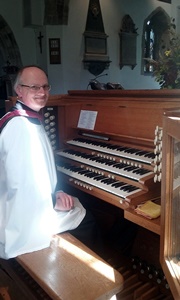 The organ at St. John's is a 3-manual electronic instrument,
installed in 1989, replacing a pipe organ which was located
in the bell tower below the bell chamber.
It has a specification akin to that of a large parish church organ
and the sound realistically reflects one of the country's finest
pipe organs, namely the fine Henry Willis organ at Hereford Cathedral.
It is well capable of supporting singing at all services, as well as
having the ability to be an excellent recital instrument.
Wedding Music

If you are planning on getting married at St. John's, please visit our
Wedding Music at St John's Boldre page where you will find
lots of help and suggestions for choosing your music.
Concerts and Recitals
Throughout each year, there are occasional concerts and recitals featuring talent from the local area as well as from afar, including regular and popular appearances by the St. Nicholas Singers. These events are listed below (all at St. John's unless otherwise stated), publicised on the church calendar and in the weekly Pew Sheets which are available for download from the Home page.
Date and Time
Event
Sat 4 Mar 2023 7.00pm

Stainer's Crucifixion

Tickets on the door

Sat 1 Apr 2023
Easter Concert with The Romsey Singers