Your Wedding Music
The wedding service itself is the most important part of your day - without this, you wouldn't be married!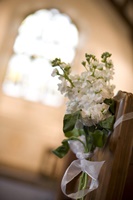 We absolutely loved the ceremony. The hymns were fantastic, thank you so much to Martin and the choir. You were brilliant.
Oct 2022
[We] wanted to thank you and the choir straightaway for wonderful singing and music on Friday. It helped to make our day very special and we are very grateful.
Jun 2019
Inspired by the organ and choir, the small congregation really got going ... please thank all the choir for coming during their busy Christmas week. I am so grateful.
Dec 2018
The wedding ... was a joyous occasion and the beautiful church and setting enhanced by the lovely flowers with the choir in full voice.
Sep 2018
Thank you for all of your talented renditions on our wedding day. Those pieces will also now have such special memories to them.
Sep 2018
We cannot thank you enough for your enthusiasm and helpfulness in making the music really come to life for the service ... it really was a fantastic surprise to hear how well the music came together which, together with the choir, inspired the rest of the congregation to sing along with such enthusiasm.
April 2018
Just wanted to express our thanks for the choir and your efforts at our wedding on Friday - the whole day was perfect and so many people have commented on a) how lovely it was to have the choir and b) how good they were.
Dec 2015
To help make the marriage ceremony an occasion for you and your invited guests to remember, we have the resources to help you with your music selection, as well as to make the music sound great on the day.
If possible, we would love you to have 'live' music at your wedding and, with the combined resources of our excellent organ, organist and choir, we will do our very best to accommodate your requirements. The presence of our church choir will encourage you and your guests to sing with enthusiasm and lift the music. Experience has shown that CDs or other media do not always work well on the day and we would therefore ask you to consider carefully before using pre-recorded music.
Our Director of Music, Timothy Rice, has been playing church music, including at church weddings, for over 45 years! From Albinoni to Wagner, Arrival of the Queen of Sheba to Widor's "Toccata", the repertoire has been well-rehearsed - and on a variety of instruments - so all you have to do is choose!
Some couples already know or have some idea of which hymns and music they would like to have; others would like some help. Whichever category you come under, we have some suggestions below for you to choose from to help you on your way - and most of the music items are linked to an audio file so you can hear what each piece sounds like (don't feel you have to listen to the whole piece - just take a sample!); for the hymns, some have audio links and there is also a link to a PDF file at the top of the list of hymns so you can see the full texts.
When you have made your choices or if you would like to meet the organist to discuss your requirements, please send an email with your details.
IMPORTANT!
If you are having a choir at your wedding and you are producing printed Orders of Service, you MUST provide sufficient copies for the choir to use so as to ensure everyone is singing the same words! As a guideline, please allow for 12-15 copies. Thank you!
Entrance of the Bride
A Wedding Fanfare - Bliss
Arrival of the Queen of Sheba - Handel
Bridal Chorus from Lohengrin - Wagner
Canon in D - Pachelbel
Trumpet Tune in D - Purcell
Trumpet Voluntary ("Prince of Denmark's March") - Clarke
During the Signing of the Registers
Choral Music (you will need to have booked the church choir for this!):
Ave Verum Corpus - Mozart
Brother James' Air ("The Lord's My Shepherd") - Bain
Cantique de Jean Racine - Fauré
For the Beauty of the Earth - Rutter
God be in my head - Rutter
Jesu, Joy of Man's Desiring - Bach
Make me a Channel of Your Peace
O Perfect Love
Panis Angelicus - Franck
The Lord Bless You and Keep You - Rutter
Organ only:
A Captivating Caprice - Archer
Adagio - Albinoni
Air and Gavotte - Wesley
Air from Suite No.3 in D - Bach
Ave Verum Corpus - Mozart
Jesu, Joy of Man's Desiring - Bach
Largo from "Xerxes" - Handel
Sheep May Safely Graze - Bach
Sleepers Wake - Bach
As the Bride and Groom Leave
Choral Song - S.S. Wesley
Crown Imperial - Walton (Sound track begins at 1:22)
Hornpipe from The Water Music - Handel
Toccata from Organ Symphony No.5 - Widor
Trumpet Voluntary "Prince of Denmark's March" - Clarke
Trumpet Voluntary - Stanley
Wedding March from A Midsummer Night's Dream - Mendelssohn
Hymns (Click here to open a PDF file with the texts of the hymns)
All things bright and beautiful
Amazing Grace
Be still, for the presence of the Lord
Christ triumphant, ever-reigning
Come to a Wedding (Sound track has different words, but the tune is correct)
Dear Lord and Father of mankind
Father, hear the prayer we offer
For the beauty of the earth
Give me joy in my heart
God, in the planning and purpose of life
God is love: let heaven adore Him
Great is Thy faithfulness
Guide me, O Thou great Redeemer
Jesus, the Lord of love and life
Lead us, heavenly Father, lead us
Lord and lover of creation
Lord for the years, Your love has kept and guided
Lord of all hopefulness
Love divine, all loves excelling
Make me a channel of Your peace
May the mind of Christ my Saviour
Morning has broken
Now thank we all our God
O God beyond all praising
O perfect Love
O praise ye the Lord
O worship the King
Praise, my soul, the King of heaven
Praise the Lord, ye heavens adore Him
Praise to the Lord, the Almighty
Tell out, my soul, the greatness of the Lord
The King of love my Shepherd is
The Lord's my Shepherd, I'll not want
To God be the glory
We pledge to one another
IMPORTANT - Reminder!
If you are having a choir at your wedding and you are producing printed Orders of Service, you MUST provide sufficient copies for the choir to use so as to ensure everyone is singing the same words! As a guideline, please allow for 12-15 copies. Thank you!